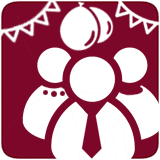 Alumni Day 2017
Saturday, May 6, 2017
ADVANCE REGISTRATION FORM
DEADLINE: APRIL 30, 2017
Registration, morning coffee and pastries, luncheon and entertainment
Luncheon Menu: Mixed Green Salad, Chicken Stuffing Casserole, Green Beans, Rice Pilaf, Rolls and Butter, Berry (strawberry or blueberry) Shortcake.
NOTE: YOU WILL NOT BE SERVED LUNCH WITHOUT AN ADVANCE PAID RESERVATION!
Alumni Day Schedule: May 6, 2017
10:00 am -- Registration, Coffee and Pastries
Heritage Center (Lower Level, Anderson LC), 21 Bradeen Street, Springvale
11:30 am -- Short Meeting
12:00 pm Noon -- Lunch
Anderson Learning Center, 21 Bradeen Street, Springvale
1:00 pm -- Musical Entertainment: Just Us

Register Online via PayPal
$35 per person for morning coffee and pastries, luncheon and entertainment
Annual "active" membership is only $25 per year! Your dues are effective the year you pay them. Your membership greatly helps the Alumni Association to perform its many functions. Please also consider contribution to the Endowment Fund, a Commemorative Brick for Flag Plaza and the Nasson Community Center. [Learn more...]
Please click within the appropriate text box(es) below to enter information, then click on the "Donate" button immediately following your selection.
Alumni Day Only
Per Person
($35)

Alumni Day 1 Person
Plus Dues 1 Person
($60)
Alumni Day 2 People
Plus Dues 1 Person
($95)

Alumni Day 2 People
Plus Dues 2 People
($120)
Register via Snail-mail
Click here to download the 2017 Alumni Day Registration Form. Print the Registration Form, fill in your information, and mail to:
NCAA Alumni Day 2017, PO Box 416, Springvale, ME 04083
Who's Coming?
Click here to find out Who's Coming! Be sure to check back weekly and watch the list grow. Register now so your name can be added to the list - and others can get excited about seeing you again too!


Be sure to read the current copy of The Lion Speaks Newsletter to stay updated with what we've been doing!
Thank you!