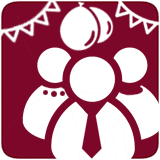 Homecoming 2017
Friday, October 6 and Saturday, October 7
Friday, October 6
2:00 pm -- Golf Scramble ($10 - Pay at the door)
Pine Hollow Little Par 3, Route 109 (Main Street) South Sanford
5:00 to 7:00 pm -- Pizza Party ($5 - Pay at the door)
Cash Beer and Wine
Little Theatre, 457 Main Street, Springvale
Saturday, October 7 ($30 Morning and BBQ registration fee)
THE MAIN EVENT
9:30 am -- Registration, Coffee and Donuts
Heritage Center (Anderson LC), 21 Bradeen Street, Springvale
(Alumni Store open)
11:00 am -- Short Annual Meeting
Little Theatre, 457 Main Street, Springvale
Noon to 3:00 pm -- Nasson GYM/Quad Side
BBQ and Mixer, Cash Beer and Wine, DJ
(talk, listen, reminisce, dance, sing, whatever)
A ticket is required for lunch and will be in your Registration Package.
The Alumni Store and the Heritage Center will be OPEN from 9:30 - 11:00 am,
and again after the BBQ from 2:00-4:00 pm.
Registration for the BBQ is available online via PayPal or via Snail Mail below. Both options allow you to pay your dues at the same time!!
AFTERNOON/EVENING ACTIVITIES
2:00-4:00 pm -- Heritage Center/Alumni Store OPEN
Nasson Community Center and Little Theatre, explore Upper Campus and the Hill (be discreet), WNCY 45th Celebration with Cash Bar and DJ
4:00-5:00 pm -- "D Day" Happy Hour Bar in the Gym, also WNCY Dj Music
5:00 pm -- Lobster Bake Note: Lobster Bake is at 5 pm, not 6 pm.
Lobster Bake followed by live music of the band "Rebound" a 60's 70's rock band in Nasson Community Center (Gym). OPEN TO EVERYONE. These activities will cost $60 PP and must be RSVP and paid for by clicking here.
Extended Activities for ALL Classes are offered as an alternative to off-site dinners. (Lobster Bake and live band are not included in the Homecoming BBQ reservations and require separate registration).
6:00 pm -- Pay As You Go Dinner
For those not interested in the Lobster Bake, arrangements are being made for 6:00 pm to accommodate up to 40 people at a restaurant to be announced. Sign-up at noon at the BBQ if you would like to join your fellow alumni for this option.
Local restaurants can accommodate small groups of walk ins.
Accommodations for the Weekend
Sanford motels are full, but the Town of Wells has many options for motels. Click here to visit the Wells Chamber of Commerce. WE RECOMMEND YOU RESERVE EARLY.
Class Reunions
Several classes are planning reunions this year! Luise Graf is coordinating the class of 1967, and can be reached at mothrnatur@tops-tele.com.
Mark Hoffman is coordinating the class of 1977, and can be reached at mnhoffman100@gmail.com. May we help you with your class reunion?

Register Online via PayPal
$30 per person for the Main Event on Saturday!!
Annual "active" membership is only $25 per year! Your dues are effective the year you pay them. Your membership greatly helps the Alumni Association to perform its many functions. Please also consider contribution to the Endowment Fund, a Commemorative Brick for Flag Plaza and the Nasson Community Center. [Learn more...]
Please click on the "Donate" button immediately following your selection.
Main Event Only
Per Person
($30)

Main Event 1 Person
Plus Dues 1 Person
($55)

Main Event 2 People
Plus Dues 1 Person
($85)

Main Event 2 People
Plus Dues 2 People
($110)
Register via Snail-mail
Click here to download the 2017 Homecoming Registration Form. Print the Registration Form, fill in your information, and mail to:
NCAA Homecoming 2016, PO Box 416, Springvale, ME 04083
Who's Coming?
Click here to find out Who's Coming! Be sure to check back weekly and watch the list grow. Register now so your name can be added to the list - and others can get excited about seeing you again too!
Let's make history together at this Homecoming!
Thank you!