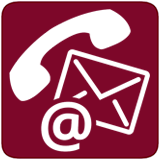 Contact Us
The Nasson College Alumni Association cordially invites you to join us by registering as a Nasson College Alumnus or as a member of the Nasson family.
Dues are $25 per year, payable to: Nasson College Alumni Association.
You may also pay dues online through PayPal.
Send us mail
Send an e-mail
Personnel

If you're looking to contact somebody for something specific, be sure to also check out our listing of Personnel. [Learn more...]
Like us on Facebook
Website Admin
We value your ideas and opinions about any facet of our work.
Thank you for your support!