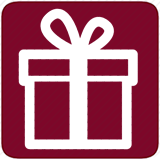 Contributions
The Nasson College Alumni Association is an independent corporation, operating under the laws of the State of Maine, and is certified as a 501(c)(3) not-for-profit organization.
The Alumni Association is a growing, active, vibrant organization. In addition to graduates of Nasson College, the Alumni Association supports and represents the interests of all members of the Nasson family. The most popular activities of the association each year are the annual all-school reunions.
In the fall of every year is Homecoming, and in the spring is Alumni Day. All major activities are held on campus.
In addition, there is the ongoing effort to keep the mailing list up to date (an almost impossible task, under the circumstances!) and collecting updates on alumni and friends.
Membership in the Alumni Association
Annual "active" membership in the Alumni Association is only $25 per year. Your dues are effective the year you pay them. Your membership greatly helps the Alumni Association to perform its many functions. If you have not yet joined for this year, won't you please join now?
Also, please consider the following endeavors
Endowment Fund

Commemorative Brick for Flag Plaza

Nasson Community Center

With great appreciation for your generosity, please make your selections below to pay Dues, etc. and help us perpetuate our memories of Nasson College. Contributions are made to the Nasson College Alumni Association through PayPal's secure environment.

Please click on the "Donate" button immediately following your selection.
Dues ($25 / year)
Contribution to Endowment Fund
Amount to be specified once you click "Donate."
Purchase 4" x 8" Brick for Flag Plaza ($50)
You are allowed a message of 3 lines, 20 characters per line, including spaces and punctuation (to be inserted as "special instructions" once you enter the PayPal account).
Contribution to Nasson Community Center
Amount to be specified once you click "Donate."
Contribution to Nasson Little Theatre
Amount to be specified once you click "Donate.
For more information about Contributions
Please contact Alumni Association President, Connie Witherby, '73